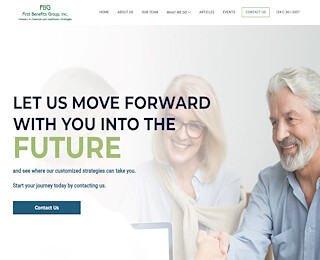 First Benefits Groups is there for their clients with services that both protect existing wealth and help to build new wealth. First Benefits offers the following financial planning strategies for its clients:  
- Financial service, streamline focused on building income, maintaining or growing your cash flow, and preservation of your current capital to help you stay within the lifestyle you are enjoying, and maintain it throughout your lifetime.  
- Healthcare services, designed to deliver the highest quality health plan at the most affordable cost, for both employers and individuals looking for healthcare. First benefits also offers education on making the most efficient use of your plan that's possible, to insure you don't waste your time or money.  
- Florida Social Security knowledge and education. Beginning November 2, 2015, the Federal Government approved many major changes to the benefits of retirees within the Florida Social Security platform. With First Benefits helping you become more aware of these changes, you can take advantage of the new laws in effect.  
- Medicare enrollment can leave you bewildered without the assistance and advice of a knowledgeable team walking you through the process. Let First Benefits help you navigate the Medicare system and take the headache out of the process.  
First Benefits can help you make a wise investment in an annuity that offers a guaranteed minimum rate of return. For both fixed and variable rate annuities, First Benefits can help you make the right choice for your individual needs. The safety of owning an annuity is unparalleled. In case of a catastrophic illness or if the need of nursing home care should arise, an annuity will pay a great return on your initial investment.  
First benefits can also help you blueprint a financial strategy for you and your family with lifetime planning that will help you discover what challenges await in your future. From the decision of when to begin taking your Florida Social Security benefits to how to invest what you have accumulated, there's a great peace of mind sitting down with a knowledgeable team who can direct you.  
The need to protect your wealth with insurance has never been greater than it is today. First Benefits is able to help you decide what the best coverage option would be for your unique circumstances. From life insurance, health, paycheck protection, dental and vision, they'll help you choose the right amount of coverage without wasting your time and money.  
Since research has enlightened us that many Florida Social Security retirement benefit recipients are receiving less benefits than they are actually entitled to, First Benefits wants to make sure you are receiving every penny that you have worked for, and nothing less. Let their team of experts educate you  in what you are entitled to, and make sure you are getting it.
Sarasota Medicare
First Benefits Group
941-361-3057
306 N. Rhodes Avenue, Suite 111 Sarasota, FL 34237
View Larger Map
We Specialize In:
We welcome your comments!
Quick Links